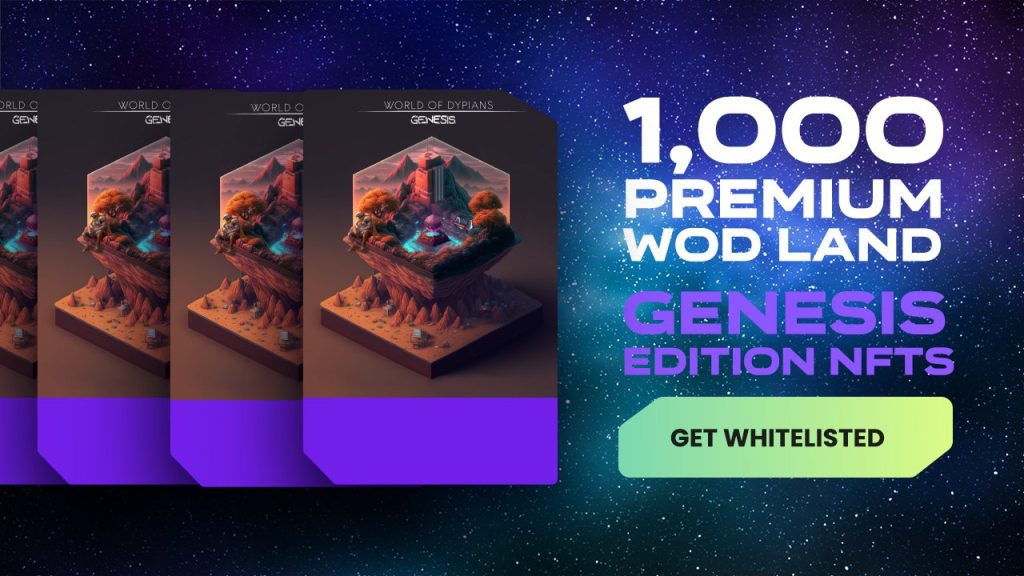 Bucharest, Romania, 6th February 2023, ZEXPRWIRE, World of Dypians (WoD), the expanding metaverse from DYPIUS, announced that 1,000 Genesis Land NFTs are available for minting on the Ethereum blockchain. The whitelisting process ends on February 17 and gives users immediate access to one of the most promising metaverse projects and all its benefits.
WoD Genesis Land is located in a prime area within the game, and a plot is available at a knockdown price of only $1,200 (0.73 ETH). These NFTs reward owners with early access to the World of Dypians and its RPG-style game.
Moreover, the team announced that registration to join World of Dypians as a live beta tester is still open. Those eager to explore this virtual universe have the chance to gain early access and provide valuable community feedback.
Why Being an Early Settler of WoD is Important
DYPIUS has created the World of Dypians as a thrilling RPG adventure incorporating all the benefits of trading crypto and earning rewards. Furthermore, players access even greater incentives on an online experience with financial returns.
WoD players can discover and expand to new territories or use their tools to build skins, gear, and weapons. Roaming this metaverse and engaging in quests help their characters grow and reach their full potential.
The World of Dypians has about 2,000 km and 2,100,000 NFT lands organized in 5 tiers. Notably, the Genesis Land NFT plots occupy a 15,625 m2 parcel size with substantial growth opportunities. For instance, the WoD metaverse operates as a freely-run virtual universe where every player has a role in an emerging decentralized economy. In other words, every user can generate value and benefit from others' actions.
WoD also allows businesses and entrepreneurs to participate in this metaverse. Real-world companies can transpose their brick-and-mortar shops into the virtual world and earn in-game rewards, which they can later monetize. Moreover, they can attract other players to their digital businesses and engage in economic activities, leading to in-game profit.
Similar to real-world real estate investments, joining a new developing project early on is ideal for earning significant rewards in the long run, especially when the prices are low and accessible.
According to research from the Influencer Marketing Hub, "the average price of a parcel in major metaverse platforms has increased from $1,265 to $12,684 from January 2021 to February 2022." Considering the high demand for metaverse land and its increasing value, the WoD Genesis Land NFT plots have a bargain price of only $1,200 (0.73 ETH). Moreover, they include user benefits that are difficult to find in other emerging metaverse projects.
How to Become a WoD Genesis Land NFT Owner
Becoming a proud new owner of WoD Genesis Land NFT is easy by joining the whitelist. You can connect your wallet for a whitelist spot, which guarantees access to a maximum of 10 Genesis Land NFT mints per wallet.
Connected wallets must meet at least one of the following requirements to be eligible:
Hold at least one CAWS NFT or contain a CAWS NFT deposited in the CAWS Staking pool.
If you are currently holding or staking a CAWS NFT, you will receive a 20% discount on the World of Dypians Genesis Land NFT mint price. In this case, your adventure starts with the main character and a cat from the Cats and Watches Society NFT created by DYPIUS. Owning a CAWS NFT comes with numerous in-game benefits, including the advantage of minting for free a unique NFT to enjoy an increased drop rate in the game.
Meet Token Balance Threshold.
If you do not have a CAWS NFT, you can purchase one later during their open-world adventure. However, to enter the whitelisting for a WoD Genesis Land NFT, your wallet must carry a minimum balance of $1,200 worth of ETH at the time of the whitelist registration.
After obtaining your Genesis Land NFT, you can stake it into the project's 25% APR pool and earn rewards in Ethereum.
Genesis Land Benefits
Here are the main benefits of owning a Genesis Land NFT within the World of Dypians:
Multi-functional Building
This virtual world allows players to build customizable and multi-functional structures. Moreover, they can interact there with other users in fun and lucrative activities.
Environmental Items
Players can customize their NFT plots as they please, thus adding a unique touch to their personal spaces.
AI-Powered NPC
WoD includes an informative virtual assistant greeting users from all over the world.
Exclusive Land NFT Staking
Every WoD Genesis Land NFT owner has access to a dedicated staking pool that offers 25% APR in ETH rewards with no lock period requirements.
Earn Special Rewards
NFT owners can receive additional in-game benefits and increased rewards.
Monetize Land
Players can display and advertise virtual goods or sell in-game to other users.
Join World of Dypians as a Live Beta Tester
The World of Dypians is rapidly growing and attracting players worldwide. So far, the project has welcomed 6,490 registered beta testers enjoying excellent benefits.
Anyone can apply to become a beta tester for WoD and gain early access to the latest game updates and features. This status includes entrance to private tester Discord channels concerning this project. Other benefits include exclusive beta giveaways, monetary compensation, and other special prizes.
As a beta tester, you can provide valuable feedback to developers and earn rewards while enjoying exciting gameplay. Most importantly, you can engage with a like-minded community, provide precious suggestions and help shape the development of the World of Dypians.
About DYPIUS
DYPIUS, the next stage of evolution for DeFi Yield Protocol, is a rapidly developing DeFi ecosystem incorporating numerous versatile solutions, including analytical DYP Tools, DeFi solutions, CAWS NFTs, and Metaverse gaming. The project runs on unique smart contracts using the protocol's proprietary anti-manipulation functionality.
People can use the DYPIUS Metaverse to bring real-life businesses into the virtual space. Moreover, they can access unique opportunities to earn rewards and in-game assets. This platform will offer unlimited possibilities for regular users and businesses through sustainable growth.
The protocol's token, DYP, is listed on top-tier exchanges, such as Coinbase, Huobi Global, KuCoin, Gate.io, MEXC Global, Poloniex, and others.You can learn more about World of Dypians and DYPIUS at these links: World of Dypians | DYPIUS Website | Twitter | Telegram | Discord
Media Contacts
Daniel Garett
The Post The Metaverse World of Dypians Announces Whitelisting for Genesis Land NFTs at Knockdown Price first appeared on ZEX PR Wire

Information contained on this page is provided by an independent third-party content provider. Binary News Network and this Site make no warranties or representations in connection therewith. If you are affiliated with this page and would like it removed please contact [email protected]