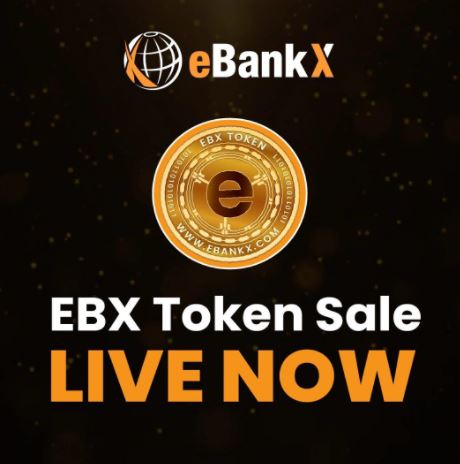 Tallinn, Estonia, 13 Oct 2021, ZEXPRWIRE, eBankX is a complete one-stop digital Platform for both Crypto and FIAT currencies, offering an easy way to buy, sell, and manage money and assets, quickly and safely. The platform is everything that defines the unique ecosystem for both, traditional FIAT money and cryptocurrencies.
EBX is the ERC-20 based native token for the eBankX platform, with a total supply of 100m tokens only. The primary function of the EBX token is to fuel the eBankX ecosystem which in turn benefits all users.
Unlike competitors on other platforms, the EBX token will revolutionize the crypto industry as EBX owners benefit from multiple rewards as well as a huge ROI, as the value of the token is forecasted to grow significantly in value.
EBX token holders are rewarded to buy and own tokens, from referral trade commissions and lower trade fees to cashback on purchases and the reassurance that eBankX is mining new crypto daily using renewable energy only.
What is the eBankX platform?
eBankX is a fully licensed and regulated financial platform, for all users across the globe, using state-of-the-art technology that provides its users with a safe and secure multi-service platform.
The cryptocurrency digital exchange boasts robust security measures, proprietary code, and industry-leading compliance and practices. What's more, the exchange can handle ten million transactions per second and is scalable eight times as required. By comparison, the largest exchange, is known to handle circa 1.4 million transactions per second.
Compliance is a key part of eBankX, "We are very focused on ensuring the eBankX experience is fully safe and compliant. Advanced live monitoring and regular checks ensure no service disruptions are experienced by our users, unlike other providers. The goal is to provide safe and efficient services by building trust and transparency. " says Brett Old, Head of Compliance at eBankX.
Why Choose eBankX?
One-stop platform offering safe, secure, and multiple rewards. eBankX offers a comprehensive Reward Centre, which includes the Referral Program. All eBankX users receive $25 worth of EBX tokens every time they introduce a new user to the platform.
In addition to the referral program, eBankX provides a complete Rewards Centre to include cashback rewards on purchases and discounts on crypto trading fees. Users can also participate in referral competitions to earn consistent rewards.
"We are offering $25 worth of EBX tokens to users who refer the platform to others, while also encouraging EBX staking that provides cashback on purchases, discounts for crypto trades and even commissions on trade fees. We have ensured we have covered all bases in allowing users to benefit." says Nada Farhaa, Marketing Director of eBankX.
Renewable Energy and Crypto Mining Farms
eBankX will introduce renewable energy-powered crypto mining farms. Only popular, in-demand currencies such as BTC and ETH will be mined which will drive the value of the EBX token up continuously as the profits are invested back onto the platform, which also ensures the liquidity of the platform increases constantly.
The eBankX founders are aware of how the platform will impact future mining operations, enabling them to be powered by green renewable energy, such as solar power. EBX returns are expected to fund the operations and help uber-rich investors such as Elon Musk to realize their vision of a green cryptocurrency trading ecosystem.
The goal is to provide quality and efficient trading and financial services by building trust and transparency.
Rise in Value for EBX tokens
The EBX token will only be issued through the eBankX platform only. The value during the different phases will increase from $0.25 rising to $2 at the final stage of the token sale.
The founders are releasing EBX tokens in the market, phase by phase, helping the demand to reach a crescendo before going on to the next phase. Since eBankX users will already be gaining discounts and rewards, the value of EBX is expected to rise further.
How to join the eBankX ecosystem?
Visit www.ebankx.io and create an account, complete KYC, and purchase. What eBankX is doing with the EBX token is radical – users benefit in comparison to other platforms, the more EBX tokens held, the more the benefit, not to mention a one-stop financial ecosystem.
For more information:
Website LinkedIn Telegram Facebook Twitter Instagram
The post eBankX Launches With a Lucrative EBX Token Sale appeared first on Zex PR Wire.
Information contained on this page is provided by an independent third-party content provider. Binary News Network and this Site make no warranties or representations in connection therewith. If you are affiliated with this page and would like it removed please contact [email protected]