Buy $100 of SOWL Tokens; give a child 6 months of virtual education via the EarlyBird app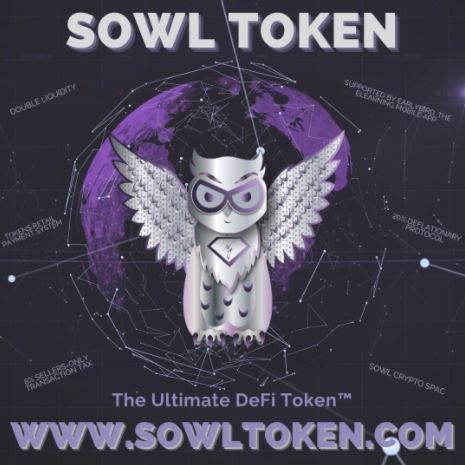 Maryland, USA, 13 Sep 2021, ZEXPRWIRE, SOWL Token has launched a new program – The SOWL Purpose – where token holders can educate a child in need simply by buying tokens. With this program, buying $100 of SOWL tokens sponsors one child for 6 months of virtual education on SOWL Token's EarlyBird app.
Countless children worldwide battle a system of educational inequality. This problem has only been exacerbated by the COVID-19 pandemic, which has left close to half of the world's students out of school due to school closures.[1] Families of underprivileged children can https://www.globalpartnership.org/results/education-data-highlights rarely afford the fees charged by high-tech platforms. As their classmates pivot to remote learning, children in need are left hoping to catch up with the rest.
"I'm excited to launch this program because it's not just about a crypto – SOWL Token is helping children all over the world," says SOWL Token founder and CEO Megan Hallett. "At SOWL Token, you can buy a token with strong growth potential and make a difference in the world. This project was inspired by my commitment to help the world grow financially and help children in need globally."
The cryptocurrency industry is filled with developers knocking off competitors' Solidity codes and undercutting competitors with lower transaction fees and higher returns. Cryptocurrency is now all about who can make the most money. In fact, the average developer abandons their project once they've made a quick $100k. As an educator, Megan Hallett wanted to change this with a cryptocurrency that not only gives back to the developer and the token holders, but also helps children in need.
For every $100 of tokens that are purchased, SOWL Token sponsors one child with a free semester of EarlyBird's virtual education system. In order to support this cause, one needs to buy tokens through SOWL Token's presale, ICO or IFO. For every $100, buyers receive 333,334 SOWL Tokens. Once the transaction is complete, the token holder simply needs to send an email or message to SOWL Token with proof of purchase.
SOWL Token verifies the purchase details, after which the team chooses one child from their "Free Virtual Education Waiting List" and emails them an invitation to the program. The SOWL Token team then shares the first name and country of the lucky child with the token holder who has sponsored them. Since SOWL Token sends progress updates every 6 months, each token holder can keep up with how the child they've sponsored is doing.
SOWL Token's eLearning app, EarlyBird, was designed specifically for children in the 1-8 years age range. The app has levels of learning that teach specific topics like numbers, reading and shapes. The app also has "SpecTech" features including Artificial Intelligence, Augmented Reality and Video Tutoring.
EarlyBird has 3 patents pending and 1 registered trademark. These intellectual property assets, combined with company profits, support the token and ensure stability. EarlyBird has also won the Mom's Choice Gold Award. As the app evolves and gets new features, the token also grows in value.
SOWL Token has created a token driven by tokenomics that help make the world a better place for future generations. They already have 200 children on their waiting list. By buying SOWL Token, cryptocurrency enthusiasts can watch their money grow and see a child smile.
About SOWL Token
SOWL Token has launched a utility token that helps cryptocurrency buyers grow their money and sponsor underprivileged children with free education. Each purchase of $100 SOWL Tokens sponsors one child for 6 months of free education on SOWL Token's EarlyBird app. With this token, SOWL Token is creating education equality across the globe.
Media Contact
Website: https://www.sowltoken.com/
Telegram: https://t.me/sowltoken
Instagram: https://www.instagram.com/sowltoken/
Twitter: https://twitter.com/SOWLToken
Facebook: https://web.facebook.com/SOWLToken/
Media Contact: Megan Hallett
Email: [email protected]
Phone: (667) 837-3279
The post SOWL Token Holders Can Fund Free eLearning for Underprivileged Children appeared first on Zex PR Wire.
Information contained on this page is provided by an independent third-party content provider. Binary News Network and this Site make no warranties or representations in connection therewith. If you are affiliated with this page and would like it removed please contact [email protected]