Manhattan, NY, 22nd Dec 2021, ZEXPRWIRE, RISING STAR is back with another unique display of art, entitled Jesus Is Bliss. The new collection is presented in a version of the first billion dollar coin ever a part of the Earthling Unlimited File System (BXI).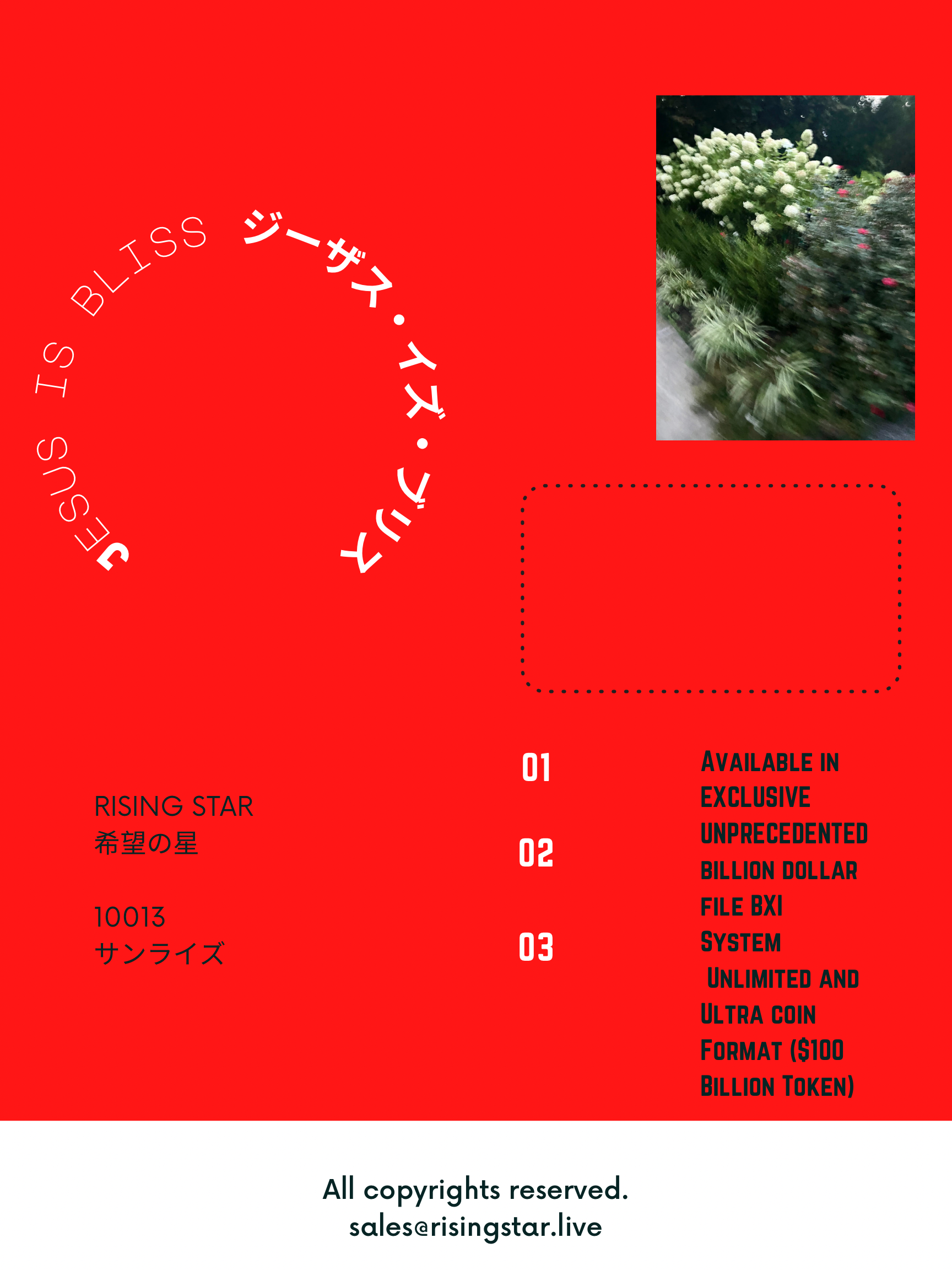 Each photograph in the collection is available as a set of two, being attached with a sketch courtesy of the house artists. For 10 minutes only, certain sets will be running at $100 Million before increasing to the official Earthling Unlimited programmed price of $1 Billion. There are also main sets already automatically set at the true Earthling Unlimited coding.
The house chose to premier this way to stay in line with the true programming of 10 figures only and to also give an opportunity to any hopeful buyers quick enough to possibly catch the limited pieces in the short time span. The coin is made to be used in high tier market systems such as stocks, peculiar transactions and in the highest level security systems or databases. All coins in the Earthling Unlimited currency system are programmed to only operate on a high tier 10 figure plus status with coins valued to operate only in 13 figure plus instances.
Access to the currency requires strict guidelines to be met based on high level forensics, valuations, and tiered testings past the regular computer generated analytics that generally equate to nothing. Copied documents, assets and illegal assets are automatically denied entry. In the case of artwork, copied art, vulgar, media influenced or low quality art are automatically rejected by the software through special Earthling Unlimited coding. The currency accepts high tier art into the system but mainly only in the instance of very rare occasions.
The special coin comes with a beautiful physical coin and carry device to manage funds and motion of the coin, literally. Infused in the currency is a special tracker capable of being added to any device. The coin can also be classified as a software regulator and verifier, where once accessed an emblem of ownership is provided giving owners of the coin more business credibility and separation in the marketplace. The coin is as rare as they come.
On top of this special unprecedented currency, there is the possibility for a lucky customer to possess this inimitable coin along with a groundbreaking art piece. RISING STAR is committed to spreading the Christian faith in the most innovative ways possible, also being the first and only brand to ever advertise the World's Most Expensive Photograph priced by Jesus along with multi billion dollar collections and 11 figure plus pieces of artwork.
The brand is also the only to supply lifetime travel benefits for buyers! All of these perks come infused with their groundbreaking software devices. All rights reserved to RISING STAR and Earthling. USPTO Patent Laws Apply.
Includes special details on I Met Jesus, The Devil Is Mad That I Keep Winning and Jesus Showed Me A Split Sea
*Buyers should also beware of any scam artists offering rewards for artwork that have emerged ever since the RISING STAR house began promotion. This is the original.
Copyright Notice:
Earthling Unlimited Extensive Files (BXI Unlimited Index System, Unlimited Token, Unlimited, Ultra Token, Ultra Coin, Ultra, Super Token, EUXE, Buy-It-Now, WorldMasterClass Files, WMX, WMEI, XEUIndex, EUX and other softwares and their functions) and RISING STAR Collections are protected under the copyright laws of the U.S. and international copyright laws through means of the WIPO, Agreement on Trade-Related Aspects of Intellectual Property Rights (TRIPS) and the Berne Convention for the Protection of Literary and Artistic Works. Reproduction copying or distribution without expressed, written permission of RISING STAR and Earthling is strictly prohibited
Media Contact
Company Name:-RISING STAR
Email:-[email protected]
Company Website:-https://risingstar.live
Information contained on this page is provided by an independent third-party content provider. Binary News Network and this Site make no warranties or representations in connection therewith. If you are affiliated with this page and would like it removed please contact [email protected]