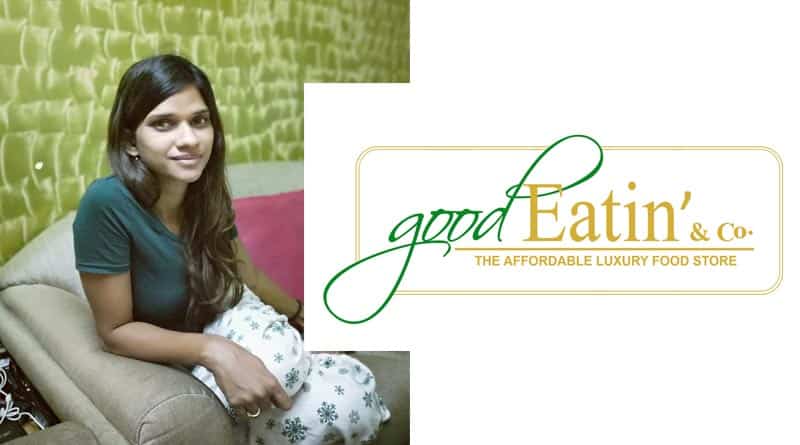 Mumbai, India, 11th Jan 2022, ZEXPRWIRE, Quality food lifestyle has been a major concern in our country. And during pandemic situations, our eating habits and lifestyle have gotten worse. Good food is like a medicine to the body. And these tough times have made it even more vital to live green. And from here Sara Adtani, the founder of good Eatin' & Co. saw the potential to step in and cater to India's quality food requirement concerns. The team researched the potential problems people were facing concerning quality food and good healthy eating space. They came up with an idea to serve and promote such exponential brands on a one-stop-shop platform!
Started in 2020, good Eatin' & Co. was established by Sara Adtani to support the community during their hard times. She came up with the idea of promoting food niche brands on a global platform and helping them reach the ultimate customers. The platform features products such as chocolates, fruits, frozen food, cheese, beverage, meat, and much more.
The team has been collaborating with all local and food brands to help them promote their products. The platform has bridged the gap between people in the market the sellers.
good Eatin' & Co. success
Success to good Eatin' & Co. is all about the happiness of its clients, collaborations and the team. Sara mentions that seeing the community happy is all they dream of! At the current level of the work, the start-up has received huge appreciation from everyone connected with the platform.
Risks and challenges
While the company was set up amidst a pandemic, the virtual set up was a major risk to the sustenance and ensure covid safety of the company. Recruiting staff and training them online was a tough job.
Assembling the logistics was one of the major challenges. While the team operated PAN India, growing on a global scale was tough amidst pandemics. The next big challenge for the company was to keep a watch on the competitors and perform a consistent SWOT analysis. As the food industry is a highly competitive industry in the market, it required constant market analysis. Nevertheless, the team together has made it to fight all of them!!
The next step
In order to grow and expand on a global level, good Eatin' & Co. is open for funding. They are currently in a bootstrap situation. The meaning of growth and success for the team is all about working every day and building enhanced recognition in the market. And to achieve this growth, they've been very particular about their products they offer. They invest a huge amount of time in determining what brands to approve on the platform that can benefit the health of society. They scrutinize the brand and the products before final approval. They have been committed to promoting good niche and healthy products for the consumers.
While they have their services set up PAN India, they've lately set up their services in the USA (Dallas) as well. In the coming time, the company plans to expand further geographically!
The support behind the business
good Eatin' & Co. has a team that operates in India as well as abroad. The founders mentioned that the support of their family and almighty blessings are the sole reasons for their success.
They also credit their entire team for taking good Eatin' & Co. to the next level in the industry. Their legal team Just Archon helped them with the whole setup. Mr. LT Gujjar and Digitize team are dedicated to complete Digital & Tech support. The support staff members of the team include Vinita, Prakhar, and others. Ms. Aparna M has their back with complete support and guidance to the team. Lastly, the team credits Sam for being a backbone to the business. He is indulged in preparing strategies, patience, and a flamboyant vision for the company! Other family members supporting the team are Adtani, Menezes, and Tisdell. As a team, the company has been stepping up the ladder of success each day!
What made you strike this business idea?
Sara – During the unfortunate pandamic, we saw what were the requirements of people in quality food and healthyeating space.
To serve and promote such exponential brands around us on platform that is ONE-STOP-SHOP!
What inspired you to start this company?
Sara – Ideas of promoting such niche brands on global level and ensure awareness to all.
When did you start your business?
Sara – 2020
What does success mean to your company?
Sara – We would only succeed of our clients, collaborations and Team are happy with our vision.
How are you performing currently?
Sara – We are getting overwhelming response and appreciate by all.
What is the biggest risk to your company?
Sara – To Keep the strong logistics in place and we're committed to only air delivery (pan India and globally) and ofcourse keep a watch with competition.
What are your plans for the funding?
Sara – Currently it's bootstrapped but we're open.
What is the biggest challenge you faced during your start-up setup?
Sara – Setting the team together, VIRTUALLY as we are a complete digital store and one of kind!
How does your product stand different from others in the market?
Sara – We have all niche and healthy products and we have scrutiny in place to approve brands and not just anything and everything can be on our platform.
Where are your start-up services spread?
Sara – Pan India & USA (MUMBAI & Dallas)
What does it feel like to be the founder of your start-up?
Sara – Unbelievable & proud to be a part of something like this.
How does it feel to get up every morning and getting on to work?
Sara – Look forward to & Happy to do so.
Where do you see your business standing in the next 5 years?
Sara – Matching our competitors and maybe beyond.
Media Contact Details
Company Name: Good Eatin
Pinterest: https://www.pinterest.it/pin/993043786556972783/
website: www.goodeatin.in
Instagram: https://www.instagram.com/goodeatinco/?hl=en
Email: Click Here
The post Good Eatin and Co. a Story That Promotes Healthy Eating appeared first on Zex PR Wire.
Information contained on this page is provided by an independent third-party content provider. Binary News Network and this Site make no warranties or representations in connection therewith. If you are affiliated with this page and would like it removed please contact [email protected]